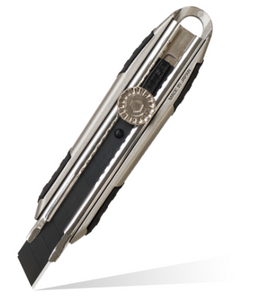 OLFA MXP-L 18mm
Regular price
€22,99
Sale price
€34,99
Estimated Shipping Time: 3-7days (
OLFA MXP-L - 18mm standard knife.
All conceivable luxury is a bit late.
Exceptionally strong cast aluminum body.
The X design grip, a non-slip elastomer insert and a strong polypropylene plastic frame.
No adhesive was used when assembling the handle.
Fracture is a secure stainless steel chrome plated blade, with high bending strength and abrasion resistance.
The screw clamp is easy to operate.
For its strength, it is made of one piece.
The large hole at the end of the handle makes it easy to store the knife on the tool wall.
---
More from this collection