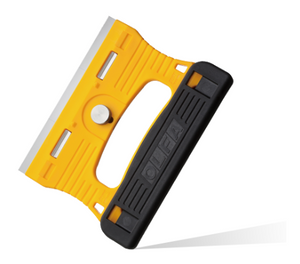 OLFA GSR-1
Regular price
€14,99
Sale price
€25,99
Estimated Shipping Time: 3-7days (
OLFA GSR-1 / 3B - Scraper.
OLFA's new professional scraper makes it easy to remove paint glue residues, stickers, glass paint and various dirt from the glass surfaces.
Ideal for use on wet, detergent surfaces, as the 0.25 mm thick blade sharpened on both sides, the fixing plate and screw made of stainless steel.
Glass fiber-reinforced and acetone-resistant plastic grip, convenient for different dishes.
There is no need to replace the blade.
By loosening the fixing screw and sliding the metal plate, the worn blade is easily removed.
The blade cover cap is slidable to the handle, making it even more convenient to scrape.
The pack contains 3 bits of spare blades.
---
More from this collection